The Hit Factory
Best Band Ever! Epic Entertainment for
Life's Biggest Celebrations
The Hit factory Band
OUR HIGH-ENERGY 10-PIECE FLORIDA WEDDING BAND WILL HAVE YOUR GUESTS ON THEIR FEET!
Let the fun begin! Introducing The Hit Factory Band ™.  A young high-energy 10-piece Florida wedding band that has been making their mark on the Florida wedding and corporate event scene.  This group is known for creating once in a lifetime events with their highly entertaining performance style and emphasis on fun dance hits.  The most important part of any band is the actual members who make up the band.  We pride ourselves on being a set group of the same very select, well-rehearsed, and polished performers exactly as seen on our demo videos and website. We are a single band dedicated to the success of your wedding, corporate event, gala, fundraiser, or party.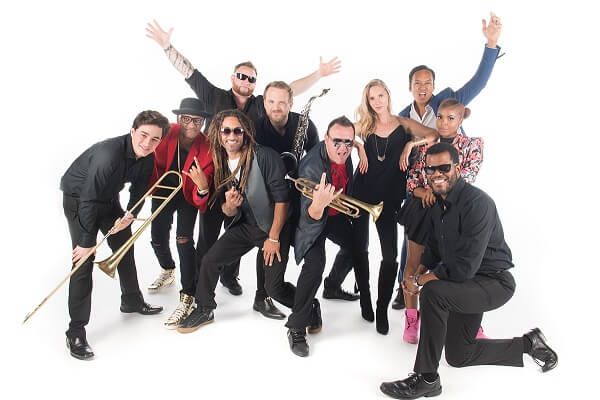 Our Awards
The Hit Factory Band has been recognized in the "Best Of" categories in magazines The Knot and WeddingWire, and has been a consecutive winner
every year since we have been included in these publications. Read through our pages of reviews to see how our clients have received us!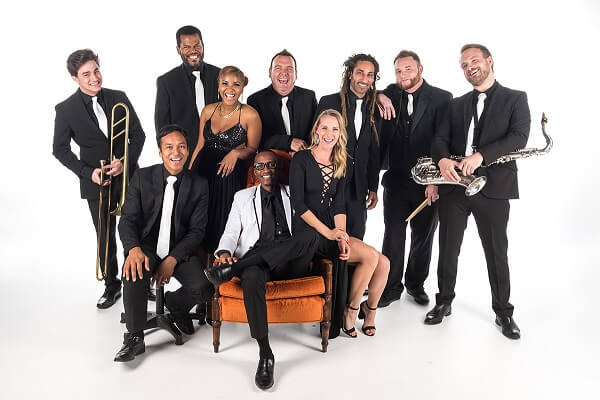 Couples Choice Awards
2023, 2022, 2021, 2020

Best of Weddings
2023, 2022, 2021, 2020, 2019, 2018, 2017
Meet Our Band Leader
ANDREW
Vocals/Front entertainer/Trumpet/ Band leader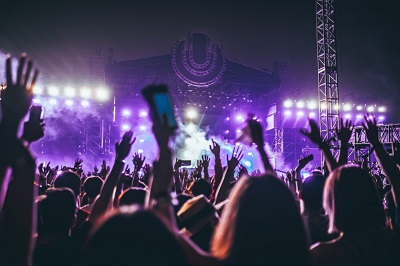 Corporate Events
Looking for a great live band that will keep your guests entertained and on the dance floor? We feature four highly entertaining front vocalists and a fantastic horn section who brings the fun right out into the crowd. We are a group of select professionals who always arrive early, dress properly, and handle ourselves professionally. You can relax knowing you are in good hands with a top professional organization.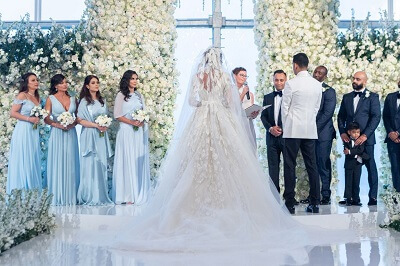 Weddings
From First Dance to the final sendoff, we know how to celebrate the most important day of your life!  The group can handle all of the Emcee duties and the flow of events.  We make use of the highest quality gear available with complete control of our sound and volume. A professional sound engineer is included at every event to ensure the sound is always at it's best.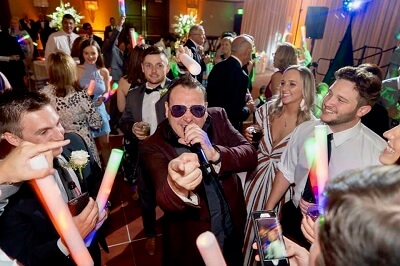 Parties
This group brings the party to the next level as they take the party off of the stage right out into the crowd!  With our experience, we can ensure the perfect flow between party events and offer seamless transitions. Our musicians and front entertainers will make sure everyone is on the dance floor and loving every moment as we perform everyone's favorite hits.


By Francesca Z
This band is INCREDIBLE. There was not a single moment where the dance floor was not packed. Andrew and the entire band are amazing! Even after they played their last song of the night, we were able to get them to come back for an encore because no one was ready to leave the dance floor. We have received multiple messages from guests saying how this was the best band they have ever heard. They truly are the best!!"
By Caroline M
The Hit Factory Band was phenomenal at our wedding in Winter Park! The dance floor as full 100% of the time & they let us and my bridesmaids on stage to sing with them. Their lead singer was working the dance floor too and singing with all of our guests. The Hit Factory Band was what everyone was talking about at our farewell brunch! You are missing out if you do not have them!"
By Angela O
This is the wedding band to book. You don't need to search anywhere else. Your guests will be talking about your wedding for years because of this band. They are so energetic, fun, can play any song you like and bring the party to the wedding. They sound amazing and you'll wish you booked them until 3am!"
By Maddie
We can't even begin to describe how amazing and energetic this group is! They brought their A game and had the entire wedding dancing all night long. Our wedding was 2 weeks ago and all of our guests still can't stop talking about how fabulous the Hit Factory was! I would recommend them 110% & we can't thank them enough for making our day perfect, fun and full of energy!
By Stephanie K
There are no words to describe how AMAZING The Hit Factory Band is. If you are looking for a band, they are a must have at your wedding! Highly recommend. Our wedding was on 03.30.19 and I can say without a doubt, they made it the best night of our lives. Our guests continue to reach out and say how incredible they were. They brought so much energy to the room, all of our guests were on the dance floor the entire night! Andrew, the band leader was amazing to work with and so quick to respond. We are so happy we chose The Hit Factory to be a part of our big day!!"
LET'S MAKE YOUR PARTY EXTRAORDINARY
We are a Tampa wedding band available for weddings and corporate events throughout the State of Florida. Areas include Key West, Miami, South Florida, Fort Lauderdale, Boca Raton, Palm Beach, Naples, Sarasota, Marco Island, Fort Myers, Orlando, Central Florida, Tampa, St. Petersburg, Clearwater, Daytona Beach, St. Augustine, and Jacksonville. We also do our share of traveling out of the area, and are available just about anywhere. Tampa Wedding bands, Miami wedding bands, South Florida wedding bands, Orlando wedding bands, Florida wedding bands, music and entertainment.