WHAT TYPE OF EVENTS ARE YOU AVAILABLE FOR?
The Hit Factory Band specializes in weddings, corporate events, galas, fundraisers, country club events, and parties. Any event where high-quality musical entertainment is required.
ARE YOU AVAILABLE AS A SMALLER 5 – 8 PIECE GROUP?
We are sometimes able to offer an 8-piece band minus the sax and trombone on less popular dates.  Beware of groups that offer themselves in many configurations such as a 3 to 13 piece group, as these are most likely agencies that may simply have a database of musicians that they piece together to suit any size desired. The Hit Factory Band ™ is a set group, and always the same highly talented and very specialized performers as seen in our demo video. There is a great benefit to having a solid group of the same performers in that these types of groups are much more polished and rehearsed than groups that are simply pieced together. For our clients this means seamless non-stop transitions in-between songs, as well as a much higher caliber performance musically as well as visually.
HOW MUCH ELECTRICAL POWER DO YOU REQUIRE?
We require a minimum of three separate 20 amp circuits to the stage area and for the band only. This is your typical house type power, but on three separate breakers and not shared by other items. Many venues have the power in place and nicely labeled, other venues (especially venues with moveable walls), don't have any power and require what is known as a power drop box. The power drop box is always the preferred power choice when available. We require the power for band use only as other items such as small lighting can create buzzing sounds in the sound system, or worse yet, cause the power to blow.
HOW DOES THE BAND DRESS FOR PERFORMANCES?
Unless otherwise instructed we always dress formally in modern fitted suits, ties, and jackets, with our female vocalists in formal gowns. Our front male vocalist will sometimes do a quick wardrobe change during the dinner segment, and dress more for fun after dinner. For corporate events we dress for fun while still being formal overall. We are often asked to dress similar to the look in some of our videos and are certainly happy to comply.
CAN I HAVE INPUT ON THE SONG LIST?
Of course! We ask that our clients simply highlight a few likes from our song list while crossing off just a small handful as "don't plays" (even if requested by one of your guests). The highlighted list along with some general information is all we need, and this allows us the flexibility we need to create the amazing parties we are associated with.
HOW LONG DOES THE BAND PLAY?
Most events include a solo performer for a one-hour cocktail, and the band for four-hours. Many of our corporate events include the band for a two or three-hour continuous performance. We are always available for optional overtime as well.
WHERE IS THE BAND LOCATED?
The Hit Factory Band is located in Florida and considers Miami, Naples, Tampa, Orlando, and Jacksonville to be our regular travel areas. Additional travel fees may be incurred for locations such as Key West or the Pan Handle region.
DO YOU OFFER MUSIC FOR THE COCKTAIL HOUR?
Yes, we can offer our keyboardist for the cocktail hour. Other musicians can be added such as the saxophone. Our musicians perform instrumental Jazz and Smooth Jazz background music as is often desired for the cocktail hour. We can also assist in securing specialized acts for cocktail hours such as a New Orleans themed horn group, steel drummers, Latin groups, Acoustic guitar/vocal acts, etc.
WHAT KIND OF PAYMENTS DO YOU ACCEPT?
Checks or direct deposits only.
WHY DON'T I SEE THE HIT FACTORY BAND LISTED ON MY VENUE'S PREFERRED VENDOR LIST?
We are listed as preferred vendors for many venues, however we refuse to pay a venue in order to be included on their list, nor will we agree to pay a venue a commission in order to be included on their list of "preferred" vendors. If you see us on a vendor list, it's because the venue honestly believes we are a first class organization that belongs on their list, and not because we have paid to be there.
*Beware of any venue that limits your choice to a small handful of "preferred vendors".  These are most likely cases where the venue is profiting from said vendor and this is not legal (or ethical).
WHEN DO YOU ARRIVE ON LOCATION FOR SET UP?
Our set up crew and sound tech likes to arrive with the bulk of our equipment four hours in advance of the bands start time. We typically set up in less than two hours and then have some down time to rest up in advance of the show. Other members such as the drummer, bass, and guitar players arrive one and a half hours prior to, vocalist arrive one hour prior to.
WHAT TYPES OF MUSIC DO YOU PLAY?
The Hit Factory Band covers a huge variety of music that can include everything from Big Band and Swing up to today's current hits. And while we really enjoy performing all styles of music, our primary focus is on the fun well known dance hits that will energize your event.
CAN YOU LEARN A SPECIAL SONG FOR MY EVENT?
Yes, we can typically learn two or three songs for any event including the first dance, parent dances, or any song that is especially significant to your event. Learning and performing songs at a high quality level takes many hours of preparation and rehearsals, so we need any requests at least two months in advance of the performance date.
ARE YOU AVAILABLE OUTSIDE OF FLORIDA?
DO YOU CARRY LIABILITY INSURANCE?
Yes, we carry the standard two million dollar policy as required by some venues. We can also have your venue listed as additionally insured, but need adequate advance notice of two weeks in order to take care of this for you.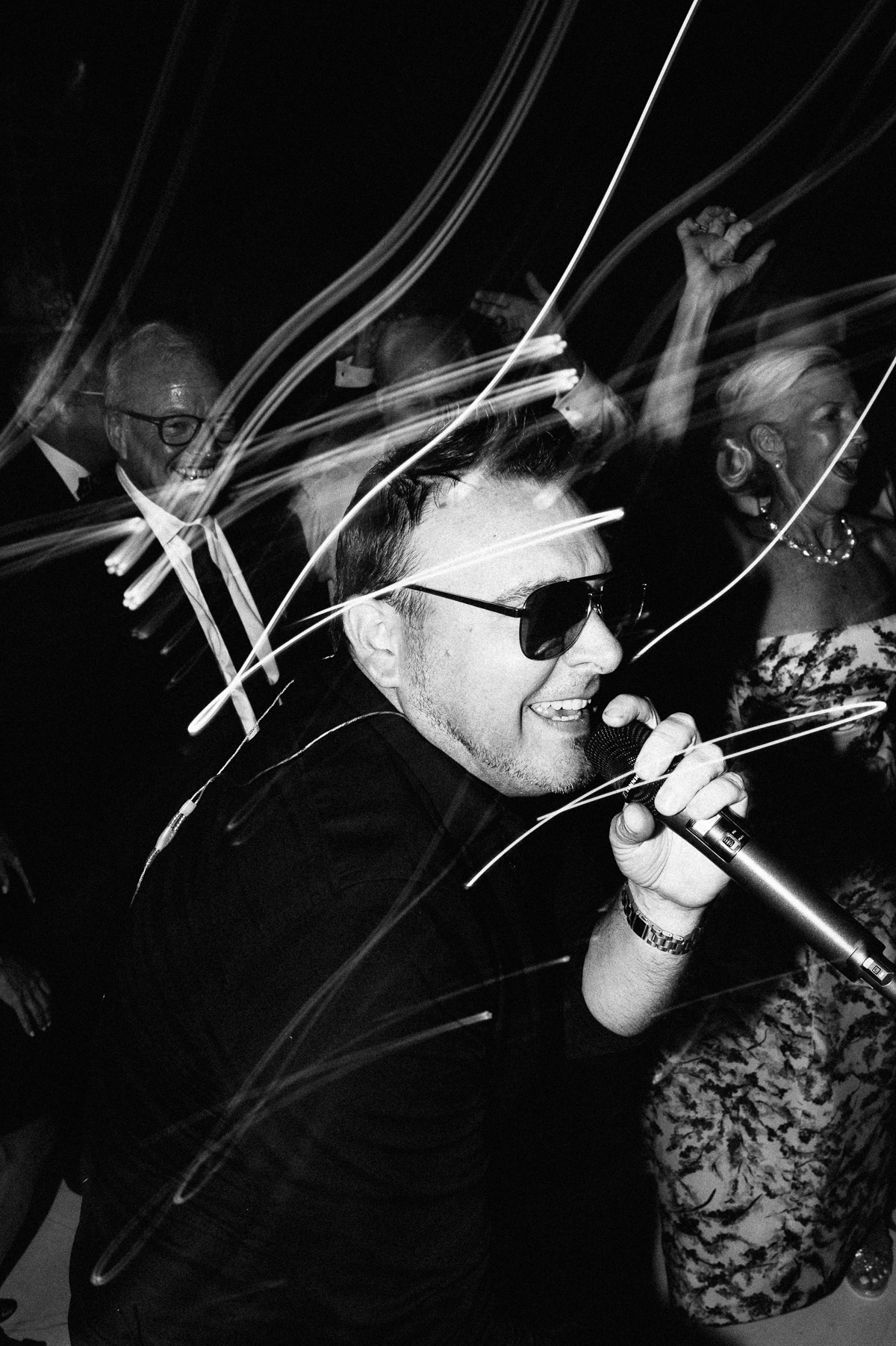 HOW MANY PIECES ARE IN THE BAND?
We offer our 10-piece group exactly as seen on our demo which includes our four amazing front vocalists, bass, drums, guitar, keyboards, and a three-piece horn section including sax, trumpet, and trombone. We also include our sound tech on every event to ensure the sound is perfect.
HOW MUCH SPACE OR SIZE STAGE DO YOU REQUIRE?
We can work very comfortably on a stage 12′ deep by 24′ wide, and this is a very typical size stage for even the 10-piece group. We can also work without a stage and in some venues this is just fine, maybe even preferable. Having a stage typically does make for a better look and allows all of the guests to easily view the band when the dance floor is packed.
WILL A 10-PIECE GROUP BE TOO LOUD FOR MY EVENT?
Excessive volume is not necessarily a product of the size of the band, for instance some of the loudest bands in history were four and five-piece groups! We have our sound and volume in check perhaps better than anyone in the business and use some of the most expensive high-end and high tech equipment available in order to keep our sound consistently perfect.
DO YOU OFFER CONTINUOUS MUSIC?
We take one 25 minute break during the main course service. We have found that this is a time where guests want to converse at their tables, and the band is not only not missed, but it is actually preferable to have the band not playing during this time. We play appropriate background dinner music via a flash drive during the break often making a custom dinner playlist based on your requests. This break also gives the band a chance to eat, refresh, and come out strong right after the dinner segment. We don't stagger breaks, as that would give the client even less time with the full group and product, plus some members (such as the drummer) are really needed for almost any music. That being said, I advise against continuous music as it tends to unnecessarily wear out the band, and makes for a lesser overall event, however we can offer continuous music at an additional cost if you must have it.
DO YOU OFFER MUSIC FOR THE CEREMONY?
We outsource our ceremonies to a fantastic group that specializes in ceremony music, as I prefer that our musicians are well rested and ready for the reception segment. You will benefit from direct pricing from our ceremony musicians, and they offer many options including solo performers as well as string groups.
READY FOR A SECRET?
There are venues (some very well known) that charge their vendors either a yearly flat fee, or a percentage per event to be included on the "preferred vendor" list. In order to keep this system in place, they will only allow only a handful of agencies access to the list, thereby channeling every event through this small group of agencies who are willing to play ball with the venue. The agent then pays a percentage back to the venue in return for having a "lock" on the venue. This means that the client is now paying an agent possibly 30-50%, in order for the agent to receive his commission, and then the agent will pay 10-20% back to the venue! In addition, there may be tax generated in the process on a service that typically wouldn't be taxable. Be especially suspicious if a venue will only allow you to use a vendor from their list.
HELP US DO A BETTER JOB FOR YOU
ACCESS TO THE VENUE, BALLROOM, AND STAGE
This seems obvious enough and typically isn't an issue, however we have encountered venues where the entire room is blocked off, or the stage is packed with chairs, tables, as well as other vendor's items. This usually occurs only when the ceremony is taking place in a portion of the same ballroom, and then the venue is turning over the room in order to use the ceremony area once the ceremony is over. This is just fine, as long as they have our stage in place and we have access to the stage to set up.
AVOID OVERCOMPLICATED PLANNING
Keep it simple, and try to have a sensible plan laid out well in advance. With weddings, much of the planning early on is centered around the food service as well as the formalities and we are often taking cues from the catering manager in order to help with the flow of the food service. It is typically best to have all of the formalities out of the way once dinner is over thereby leaving the majority of time after dinner for fun. It is always nice to get the energy going early on when possible as well, and we like to keep things upbeat and fun as a general rule. We typically start out with fun music from the minute the doors open, and play fun dance music in-between courses as well when possible.
PARKING
There are venues that don't feel obligated in any way to offer parking for the bands vehicles! Needless to say, this can create much unnecessary difficulty and stress for our group (and we want them to be in a good festive mood for your event). This is especially an issue with our truck and trailer as finding parking in places such as Miami for instance, can be nearly impossible! There is always a spot available at the venue, however it often takes the power of the client to arrange for a parking spot for our truck and trailer in advance. We will typically know which venues are problematic and can let you know if we need assistance.
ROOM LAYOUT
For the best results it is best to keep your guests contained in the same area as the band and party. This would include having the bar in the same room as the band, and not separating the band from the party in any way, such as tables in-between the band and the dance floor (rarely seen, but we have seen it!). An important sports game on TV in another room can really distract from your party, or group photo's scheduled right in the middle of a dance set! Anything that creates too much stopping and starting once the party is underway can quickly put the brakes on the momentum of your party.
AVOID MICRO-MANAGING THE BAND OR PLAYLIST
This rarely happens, as I think most people realize that when it comes to creating a fun party that includes all of your guests, young and old, we have this covered very well! However every now and then a very well intentioned client may want more input on the bands playlist than we are comfortable with. Understandably they rarely know what really works given that they don't do this for a living and aren't seeing what works first hand several times a week like we are. That being said, we still like to cater to our clients as much as possible and too much information or too little information is not good. We welcome just the right amount of input and general direction, and this allows us the large pool of fun music needed to create the amazing parties we are associated with.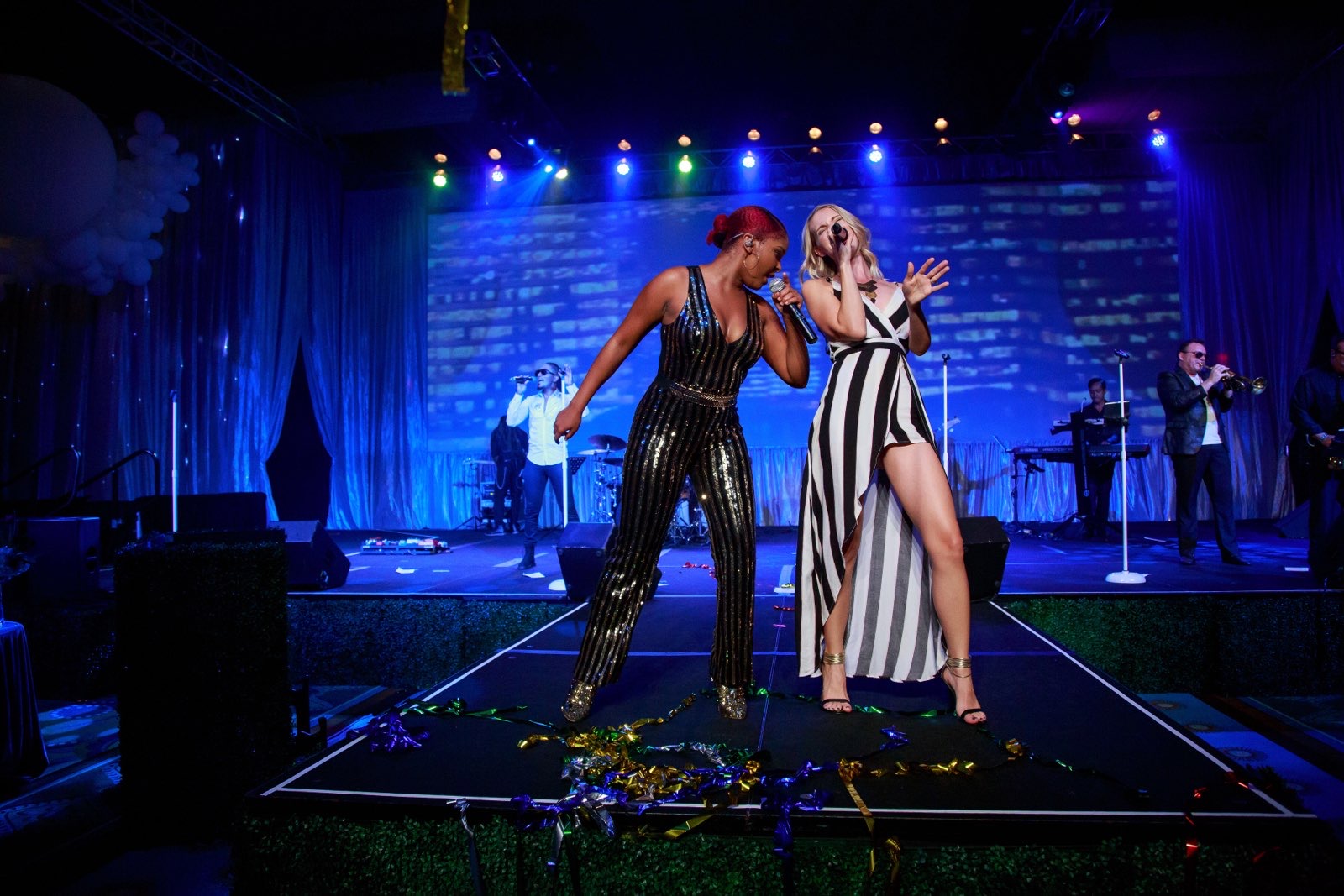 LET'S MAKE YOUR PARTY EXTRAORDINARY
We are a Tampa wedding band available for weddings and corporate events throughout the State of Florida. Areas include Key West, Miami, South Florida, Fort Lauderdale, Boca Raton, Palm Beach, Naples, Sarasota, Marco Island, Fort Myers, Orlando, Central Florida, Tampa, St. Petersburg, Clearwater, Daytona Beach, St. Augustine, and Jacksonville. We also do our share of traveling out of the area, and are available just about anywhere. Tampa Wedding bands, Miami wedding bands, South Florida wedding bands, Orlando wedding bands, Florida wedding bands, music and entertainment.